December 20, 2011
Posted by Joan V. Gallos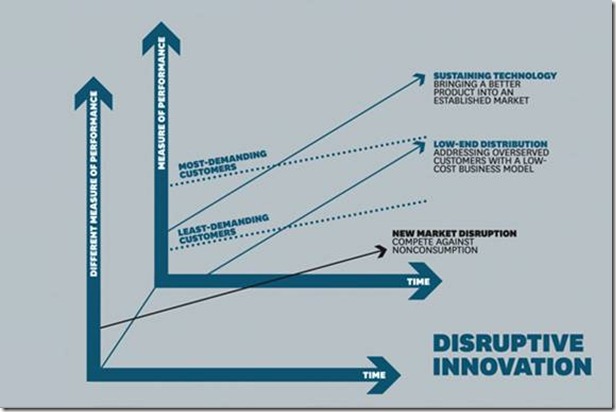 The Harvard Business Review recently dubbed this a classic visual that changed business. It certainly has changed the way we look at markets, competition, and potential customers.
It's from Clayton Christensen and Joseph Bower's reminder sixteen years ago that staying close to the customer may be sound advice for meeting current customer needs. That stance, however, can blind us to: (1) new markets no one is serving, (2) opportunities for challenging established players by offering their customers lower-priced, simpler offerings that meet customer needs (and save them money), and (3) strategies to improve the quality of those simpler products so as to bring a better product into an expanding market.
Take a look at their HBR classic: "Disruptive Technologies: Catching The Wave," HBR January–February 1995.
Bottom-line whatever our industry:  Markets are out there. No one can be complacent in an increasingly competitive global world.  We are all well-served with a split-screen approach to our work – how to serve today's customers while looking creatively toward tomorrow's.