February 6, 2018
Posted by Joan V. Gallos

I'm a Jersey girl by birth who loves the music and the poetry in the lyrics of Bruce Springsteen.
"Long Walk Home" is a soul's call to embrace roots and hope – integrate one's past into a mindful present for a bright future. "Dancing in the Dark," disco-like in its magic, screams agency and activism: "you can't start a fire worrying about your little world falling apart." And if you can listen to "Secret Garden" – and the late Clarence Clemons's sax solo – without feeling the human need for connection, well … Even before making it into the "Jerry Maguire" soundtrack, that song had me at hello.  [Hyperlinks for your listening pleasure!]
Recently,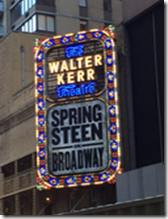 I've come to appreciate Springsteen's lessons for leadership, discovered while seeing him up-close and personal in the New York Times-acclaimed "Springsteen on Broadway." I subsequently read his autobiography, "Born to Run," to learn more.
Springsteen is smart, articulate, and self-reflective in the best sense; and he offers rare insights into creativity, career success, and high-impact leadership in a volatile and fickle industry. His wisdom speaks powerful truths to all who want to lead and succeed in today's crazy, competitive world.
The Boss has much to teach!  Let me focus here on two of his "clean aces" – two ways of thinking and being that can elevate your leadership when brought more deliberately into your life and work: authenticity and persistence fueled by hard work and proactive learning.
Authenticity:  Authentic leaders know who they are – their strengths, limitations, and values – and are not afraid to show it. They understand their emotions and motivations, and draw on both to communicate with integrity. Bolman and Deal got it right: the heart of leadership lies in the heart of the leader. [1]
Springsteen is a clear product of his working class New Jersey roots, Catholic upbringing, and dysfunctional family. Tempted to run from early life pain, he instead dove deep and learned things vital and universal about himself and human nature – both of which became cornerstones of his music and success.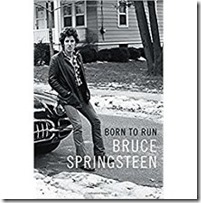 "Music that emotionally described a life I recognized, my life, the life of my family and neighbors. Here was where I wanted to make my stand musically and search for my own questions and answers", says Springsteen. "I didn't want out. I wanted in. I didn't want to erase, escape, forget, or reject. I wanted to understand. What were the social forces that held my parents' lives in check? Why was it so hard? The piece of me that lived in the working-class neighborhoods of my hometown was an essential and permanent part of who I was. No one you have been and no place you have gone ever leaves you" [p. 264].[2]
Springsteen believed audiences would resonate with music that spoke truth – that reminded them of "something they know" and could "feel it deep in their gut" [p. 236]. He would use his authentic self as the conduit to deep connection with others – and career success.
"I wanted my music grounded in my life, in the life of my family, and in the blood and lives of the people I've known," he stated. "I've learned you've got to pull up the things that mean something to you in order for them to mean anything to your audience" [p. 267].
For that kind of deep connection to happen night after night, Springsteen needed talented others who could – and would – consistently bring the same authenticity and soul.
"There is a love and respect at the center of everything we do together," he asserted. "It's not just business, it's personal. When you came to work with me, I had to be assured you'd bring your heart. Heart sealed the deal" [p. 217].
He became The Boss – a name he does not cherish – by demanding soul, not technique or flash. Everyone who worked with him needed to be clear about his mission, values, decision making rules, and standards of excellence. He developed and has held firm over his career to what he calls a guiding philosophy – an intentional code of conduct – that weds the personal and the professional. Being great for Springsteen is all about integrity, love, service, and an honest relationship with his followers.
"We [Springsteen and his E Street Band] are more than an idea, an aesthetic. We are a philosophy, a collective, with a professional code of honor. It is based on the principle that we bring our best, everything we have, on this night, to remind you of everything you have, your best. That it's a privilege to exchange smiles, soul, and heart directly with the people in front of you … to apply your trade humbly as a piece of a long, spirited chain you're thankful to be a small link in" [p. 217].
Springsteen also understood the competitive industry advantage of authenticity and how it would keep his brand fresh and evolving.
"I'd seen other great musicians lose their way and watch their music and art become anemic, rootless, displaced when they seemed to lose touch with who they were. My music would be a music of identity, a search for meaning and the future" [p. 265].
What's your authenticity quotient? How can you bring more of your true self into your leadership? Where would you start? What are the benefits for you? For your organization?
Persistence fueled by hard work and proactive learning:  Springsteen made a vow to improve his craft every day from the moment he picked up his first, cheap, childhood guitar; and his self-improvement work continues, driven by an unwavering commitment to hard work and continuous learning.
"I was interested in doing my job better and being great. Not good … great. Whatever that took, I was in," said Springsteen. "If you have the talent, then will, ambition and the determination to expose yourself to new thoughts, counterargument, new influence, will strengthen and fortify your work" [p. 215].
His autobiography charts a complex and continuous path of learning, musical directions, investments, dead-ends, and discoveries. Through it all, Springsteen held no illusions. Success required being "very aggressive, very proactive about what you want" [p. 231], having resolute focus on the ultimate prize, and working hard to augment creativity and "deepen truth" [p. 214].
"I was not a natural genius," Springsteen said he realized early in his career. "I would have to use every ounce of what was in me – my cunning, my musical skills, my showmanship, my intellect, my heart, my willingness – night after night, to push myself harder, to work with more intensity than the next guy just to survive untended in the world I lived in" [p. 138].
His persistence was fueled by a "passion" for high-impact and work ethic of "no wasted days or nights" [p. 115] – every failure has the potential for deep learning. Springsteen knew he had to "stay hungry" and "divest" of all unnecessary distractions to find "my adult voice" [p. 267]. He also made necessary sacrifices. Springsteen, for example, avoided alcohol and drugs when both were normative and readily available in the music scene – and he cut precious ties with those without that discipline. Nothing was going to come between him and making great music for as long as he wanted.
"The rock death cult is well loved and chronicled in literature and music," he said. "The exit in a blaze of glory is bullshit. Now, if you're not one of the handfuls of musical revolutionaries – and I was not – you naturally set your sight on something different. In a transient field, I was suited for the long haul. I had years of study behind me, I was physically built to endure, and by disposition was not an edge dweller. I was interested in what I might accomplish over a lifetime of music making" [p.214].
What do you hope to accomplish over a lifetime of opportunities? What's your passion? What must you learn and do to lead to the full potential of your talents?
---
[1] L. G. Bolman and T. E. Deal (2011). Leading with Soul. San Francisco: Jossey-Bass.
[2] Page numbers appearing in brackets are from B. Springsteen (2016). Born to Run. New York: Simon & Schuster.