September 14, 2011
Posted by Joan V. Gallos

It's a slippery slop for bloggers to miss a regular posting schedule – but life gets busy. This is one of those times. 
The good news: Reframing Academic Leadership (my latest book with Lee Bolman) has taken off globally like wildfire. I post a picture from last night's book signing to show I'm at least writing my name!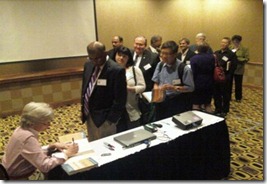 To support your learning, I share a resource from a talented social media/PR expert I met last week, Justin Goldsborough. Justin does a great blog, so I'm suggesting you read something by him this week. http://justincaseyouwerewondering.com/  And bookmark his sight: it's a terrific, on-going resource. Thanks, Justin, for your wisdom and talent.