May 26, 2011
Posted by Joan V. Gallos

The online Economist has a nifty feature that identifies what people are reading and thinking about. Their opinion clouds are constructed so that the larger the bubble and bigger the font, the more interest.
I offer two below. The first gives an overall feel for topics of interest. China leads, followed by Israel and then economic issues in Europe. The U.S. makes the list largely through President Obama's recent comments on the requirements for an Israeli-Palestinian accord and peace in the Middle East.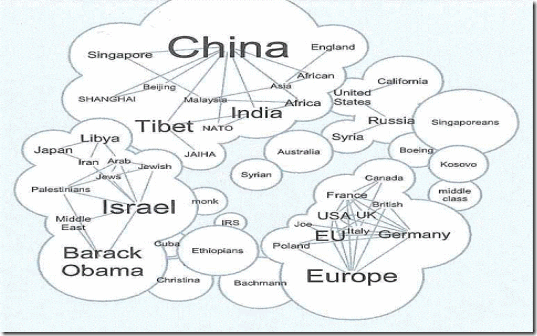 The second diagram identifies what people focused most on in their reading about China. Their biggest topics of interest? Internal issues in China, followed by China's relationship with Tibet, India, and the European Union.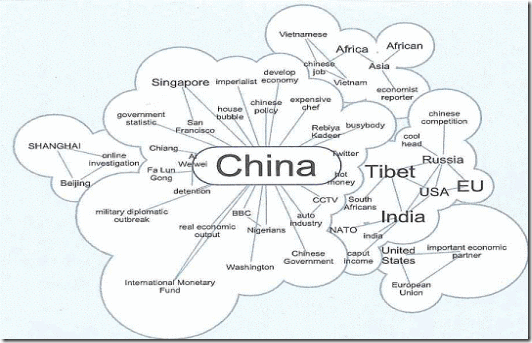 I'm struck by two things in the visual. One, how much overall news about China is available to the average reader. Two, the broad range of topics and issues, including some pretty folksy stories (e.g., expensive chefs and busybodies); issues that are controversial to China (like the imprisonment of artist and activist Ai Weiwei and the activities of Fa Lun Gong); and insights into China's evolving version of socialist capitalism and its relationships with a variety of other nations.    
For most of the last 18 years, we've taken our Bloch School Executive MBA students to China for their international residency. As recent as three or four years ago, students struggled to get any news on China from the popular press beyond sanitized press releases telling the official party line. Western scholars and policy types wrote books of analysis on big topics – and we could parse and compare their perspectives. Novels, histories, and Chinese films provided insights into culture and traditions – and offered another lens to inform analysis. But getting a real feel for day-to-day issues and happenings on the ground and in real time from the daily press just didn't happen. That's not true any more. China's in the press everyday, and average readers are forming their opinions about the country – and about the policies and relationships we want our country to have with China — from what they read and see.
All this reflects China's willingness to open its borders in multiple ways.
It also underscores the importance of good journalism – reporters who know China, its traditions and history, patterns and predispositions; who have the trust of and good guanxi with the right sources – and the experience to recognize the slips and screens. The press has a role to play in educating the world on a complex and important world power like China that has been so hard to know for so long.
How ironic that newspapers and services are cutting costs by shrinking and closing their foreign news desks, my colleagues in the newspaper business tell me, just at a time when we need them most.
As a child of the Watergate era, I saw the importance of deep thinking and investigative reporting that reflect strong journalistic field work and speak truth to power. I still want that. Don't you?