April 14, 2011
Posted by Joan V. Gallos

Spending time in the two major, big cities of China gives a distorted view of the country and of its economic development. This year, our Executive MBAs are venturing out.
We travel by train today to Tianjin: smaller scale, more industrial. A good example of how the economic boom sweeping China is rapidly spreading: a rising tide does lift all boats.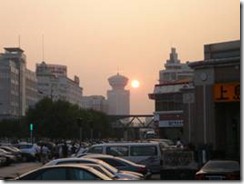 We were warned in planning that we couldn't get the kind of nice motor coaches (tour buses) used elsewhere in our travels; that we'd find a different dialect, ethic composition (Hui), and cuisine in the city despite its closeness to Beijing; and everything would be a little plainer. I was thrilled. This is exactly what we need to experience.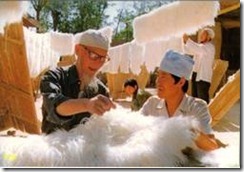 China has great diversity in its population. The majority of Chinese are Han; but in a country of 1.3 billion people, there are still a lot of Chinese who are not.
Here's a visual feel for the magnitude of the ethnic differences. I think you'll be surprised. Take a look and study the faces.  http://personal.inet.fi/koti/chayangshu/56national.html 
A big shock to first time Western visitors to China is that all Chinese people don't look alike – and that many look a whole lot more like us (and our ethnic ancestors) than they do our Chinese stereotypes.
We ethnocentric Westerners also tend to think all Chinese speak the same Chinese language. Not true. China has 36 officially recognized ethnic groups with their own cultures, religion, traditions, languages, and distinctive facial and physical features – and beyond the official count, there are many other sub-cultures.  That makes communication and planning within China difficult and complex.
Imagine what it would be like if people in Chicago, LA, and New York City couldn't easily communicate with each other. That's what we are talking about – but, ever the professor, I digress. Back to Tianjin.
By our standards, Tianjin is still a big city (11.9 million people) and China's 4th largest; but not by comparison to Shanghai (China's largest with 18.9 million) or Beijing (its historic capital in second place with 17.4 million).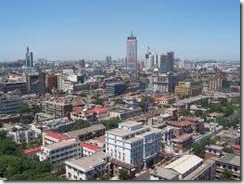 And like other cities in China, Tianjin has (and continues to build) beautiful structures with amazing aesthetic appeal. For example, their Olympic stadium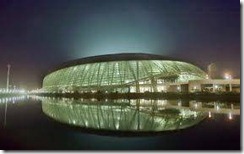 The Raffles Hotel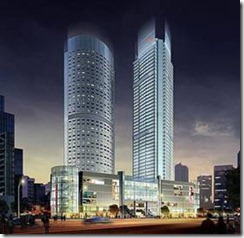 We return to Beijing by train in the evening – and to the comfort of our hotel – after visits to a large multi-national; the "internationally active domestic company," Lights Medical Manufacture; and an ethnic lunch.
Our local planner suggests an informal Beijing evening of karaoke or a visit to the night market at Wafuging near our hotel for a different taste (literally) of China. (Yes, those are scorpions on a stick, along with other tasty options.)
I suggest bed!