April 12, 2011
Posted by Joan V. Gallos

This is the day that gives me some breathing space: a chance for a quiet afternoon in Shanghai – is that an oxymoron? – with our Executive Coach (who is travelling with us), maybe even a massage and a calorie splurge with dinner at M on the Bund. This, however, is the most stressful day for the EMBAs. Send them your love! 
We start as usual with class time and two fabulous instructors.
Bill Dodson (author, entrepreneur, consultant, and business principal, and writer of the http://thisischinablog.com ) brings his unique perspective on how to do business in China with exploration of the impact of cultural differences on business partnerships and opportunities. Check out his recent book to learn more.
After a break for tea – this is China, after all – we probe the changing consumer markets with Paul French, prolific author and Founder and Publishing & Marketing Director of Access Asia. His recent book, Fat China, says as much about the dangers of Western notions of affluence as it does about China today.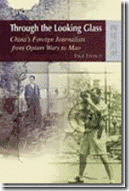 Lunch together at the hotel is a kumbayah moment for the cohort, after which everyone goes off alone to do their individual interviews or site visits for their China projects.
Students have been working on these projects (at least in their minds) since last summer, and have been preparing for this moment of truth.
No matter how prepared, there's always that last minute feeling of panic, heading off alone in a taxi or on the subway in a country where you can't even fake that you know the language by giving your English a bit of an accent as you can in romance language countries.
Here's where the rubber meets the road – a moment of executive growth and rise to full global citizenship.
Prediction: The meetings will go well, they always do. People will navigate a place as complex as China, even though they are not sure they can. Language won't be easy, but they'll make it work. And having conquered the fear of the unknown through their skill and flexibility (see past blogs on the topic of fear of differences and the unknown!), the students will be stronger leaders and different people.
We promise transformation in the Bloch Executive MBA – and this is one of the learning moments where we see the fruits of that transformation in action.
There will be another solo afternoon of interviews and site visits in Beijing for students, but this is the first – and the first is always the hardest.
I'm proud of everyone. You should be too. It ain't easy – but people make it so and are better for having done that. They model professional development at its best.
Now, will I have the Chickpea Pancake served with Anchoiade & Tapenade, Eggplant caviar, and peppery Roquette or the Twice cooked, (so juicy and crispy) Pigeon served with 'boudin noir' and harissa at M on the Bund??? 
A toast to our students (and the beautiful view) while I decide.